Cowardice: Did it ever go out of style?
It was just over five years ago that we were writing about censorship at Yale. On that occasion Yale University decided to excise the Danish cartoons from a scholarly work examining freedom of expression and the cartoon controversy.
As we said at the time:
So what does it say when one of our greatest universities lacks the courage of a small newspaper in Denmark?
Again it's a tiny publication in comparison to one of our great institutions of journalism, and again the terrorists and murderers have won.
Yes, the
New York Times has decided that it won't publish the cartoons
published by Charlie Hebdo that apparently led to the murders of twelve free people. The same is true of
NBC News.
And the
Washington Post
.
Here's one of them: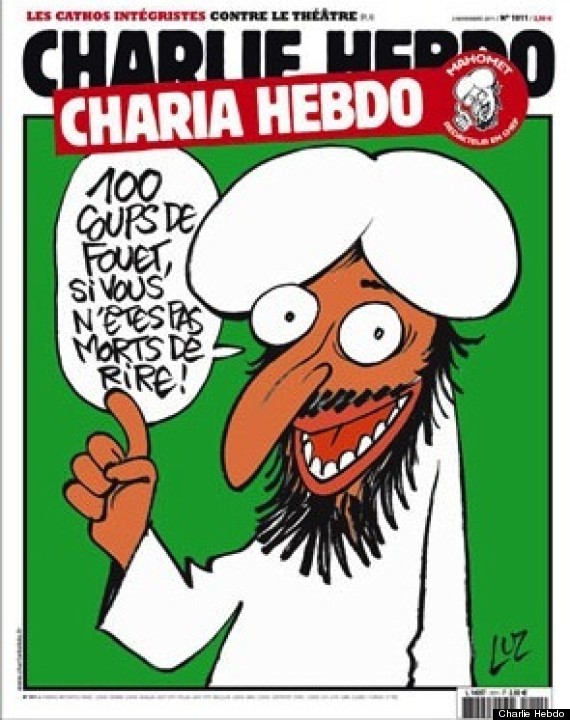 Pretty crude and juvenile, right? Muhammad is depicted as saying, "100 lashes if you don't die of laughter."
The voices of "responsible" journalism have the usual things to say: they're not being intimidated, they're being sensitive; they are never in the business of being offensive just for the sake of being offensive; how can they justify putting their employees at risk?
The thing is, though, that freedom of speech is important to us here in America. We figured out a long time ago that we can't have a democratic, civilized society without it. If some people are offended, so be it.
And the other thing is that there's no limit. There's no way a writer, an editor, or a publication can say, "If I just give in to them on this one point it'll be okay." There's never just one point. Once you let the terrorists decide what you can publish they'll be making that decision for you and your readers every day, and all of a sudden you're out of the journalism business and into--well, I don't know what you call it at that point.
Coincidentally, down in Maryland we just observed the case of an idiot politician threatening to sue a local newspaper any time they published his name.
They didn't back down, and they made him a laughing stock.
Rightly so. That was an easy one, though, because the entire world knew that he couldn't make it stick: his was a hollow threat.
The threat to kill journalists who publish pictures someone doesn't like has repeatedly been shown not to be a hollow threat at all. Still, the fundamentalists and terrorists don't get to win, because after they win one, what's to stop them from winning all of them?
Labels: cartoons, censorship, Danish, fundamentalism, Hebdo, New York Times