Democracy in Wisconsin, again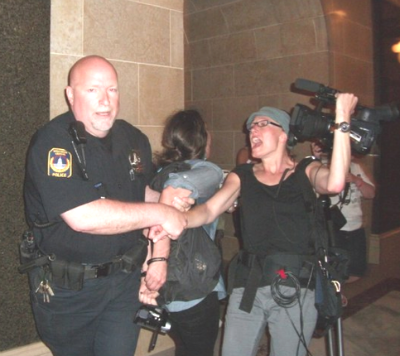 Just a reminder of the commitment to democracy demonstrated by the Republican regime in Madison.
First off, if you're hoping to cover the political scene in Wisconsin by making a documentary film about the goings-on there, maybe you should think twice.
Burlington filmmaker Sam Mayfield was arrested for doing just that at the Wisconsin capitol yesterday
. In addition to Green Mountain Daily it's also being covered on
Democracy Now
.
Second, why would Republicans in Wisconsin work to get Republicans to run in Democratic primaries?
Pretty simple, actually. Right now six Republican state senators are facing recall elections this year, due to their undemocratic practices in this year's budget/union-busting fiasco. The Milwaukee Journal-Sentinel is reporting that, fearing a strong Democratic campaign, the Republican Party is running fake Democrats in the primary, with the idea that if they get on the ballot they will squeeze out any real Democratic candidate.
When it comes to running fake Democratic candidates in this summer's recall contests, top state Republicans have one thought:

The more, the merrier.

Sources tell No Quarter that state Republican Party officials are aiming to line up spoiler Democrats - loyal Republicans who run as Democrats with no intention of winning - in all six recall elections for incumbent Republican senators.
Finally, a court in Wisconsin has granted a permanent injunction blocking enforcement of Scott Walker's illegally passed union-busting bill.

In what is seen as a win for public labor Unions, Governor Scott Walker's controversial Anti-Collective Bargaining law was struck down.

Thursday Morning, Dane County Judge MaryAnn Sumi issued a permanent injunction against the bill, effectively killing it until the Supreme Court is able to act. Sumi's 33 page decision said there was "clear and convincing evidence" that Republicans who control the Legislature violated the state's open meetings laws. This referred to GOP actions at March 9th committee meeting where the measure was passed without providing proper notice to the public. Also at that time, the Capitol building was locked down tightly keeping many members of the public away.

"This case is the exemplar of values protected by the Open Meetings Law: transparency in government, the right of citizens to participate in their government, and respect for the rule of law," Sumi wrote. "It is not the court's business to determine whether 2011 Wisconsin Act 10 is good public policy or bad public policy; that is the business of the Legislature. It is this court's responsibility, however, to apply the rule of law to the facts before it."
That's the good news: At least one branch of government in Wisconsin still believes in the rule of law.
Labels: Sam Mayfield, Scott Walker, union-busting, Wisconsin