Now this is what I've been saying for years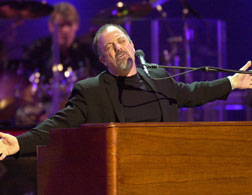 This may seem an odd moment to bring up the subject of Billy Joel. But the recent death of the painter Andrew Wyeth revived a long-standing debate over whether his art is respectable or merely sentimental schlock. (Say it: good or bad?) It got me to thinking about the question of value in art and whether there are any absolute standards for judging it. It indicates the question is still alive, not relegated to irrelevance by relativism.
The only thing I don't really understand is how he can refer to Billy Joel as the worst, in comparison to the unspeakable vileness of Barry Manilow.